ELECTRICAL SERVICES WE PROVIDE
We provide a wide range of electrical services. Just because it's not listed below, doesn't mean we can't do it. Contact us for further details.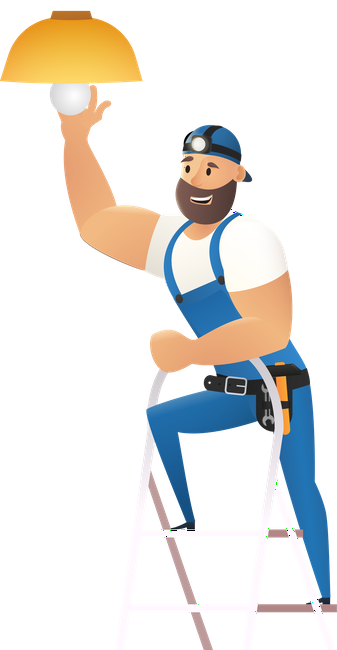 Lighting
We have a huge amount of lighting expertise with product and design. The right lights really make a difference to a home, shop or office; with the right amount of brightness, height and shape paramount to the performance and flow in a room
We can install and supply lights and help with provided lighting levels and illumination for different areas and moods for working areas as well as relaxing lighting
We can provided and organise lights in respect to the domestic or commercial legal amount of lumens (light output) in the area for compliance to regulations
We can provided you with up to date LED lighting options
We can provided dimming of all sorts of lights so that strong light during the day can be dimmed for night use
Or we can simply install or replace your existing lights that you have purchased
Power Points
We can both install new power outlets and/or repair broken power outlets
We can update your outlets to modern points to make the appearance of homes and offices sharper
We can install dedicated power supplies 10-15-20-32 amp etc
Optic Fibre
Optic fibre cabling is now starting to become the new standard for telecommunication and data. With high speeds and more user friendly adaptations for everything from phones, data and Television reception quality
Phones
The old landline phone is becoming so yesterday but it is still essential for the connection of our internet
We can repair or move existing phone points
We can install a new data point to use the phone line and internet point in a more central point so wireless connection is more reliable
We can install roof or wall mounted boosters for wireless internet reliability in larger home
Intercom Systems
We can install intercom systems with just audio or with cameras to provide video of who has come to visit
Gate release for easy access on the way out or to let a friend in
Intercoms that will take photos of the people that push the button in case the robber is testing to see if you're home
Intercoms that can have multiple stations from which to answer the front gate
Intercoms that will allow you to talk between rooms (to tell the kids to set the table!)
Camera Systems / Security Alarms
We can install the latest camera systems with amazing resolution so you can actually see what and who is going on around your home or office. With Iphone, android or Tablet hook up through the internet, you have immediate and mobile access to monitor camera activity
The ability to have notification hot spots and trigger lines so although your cameras are recording everything, they only notify you when somebody hits one of those triggers UPS back up is available so if the power goes off the cameras maintain power
There are simpler and more economical options. You can even purchase your own system and we can install it for you (But of course, you get what you pay for)
Television
We install new antennas and TV points for the home and work with the ability to install extra point points in the bedroom or outside on the back patio for the Grand final or Melbourne cup party
We can repair existing points that have become faulty
We can wall or roof mount TVs
We can install data, fibre optic or HDMI cables and power points behind the TV and in the wall so your surfaces stay free of dangling cables and give you a sharp finish
We can run the wiring for entertainment units like PlayStation etc and customize your installation to suite your individual requirements
Entertainment Systems
We can install your audio/speaker systems with wiring if required (a lot are now blue tooth or wireless but still require power source)
Surround sound for TV room and lounges
Data hook ups to watch the internet through your TV
Cabling to suit sound bars, plays stations, speakers or any other cabling needs you can imagine
Technology is always changing and leaping forwarded
Switchboards & Safety Switches
Mostly out of sight and out of mind, switchboards are the most important piece of electrical hardware in your home, office or factory
It can save your life and give you OHS compliance in the work place. It will also keep your house insurance provider happy and can reduce premiums if your wiring is in good order and compliant with modern regulations.
We install individual safety switches on all sub circuits with the latest regulations demanding that every circuit now be protected. Individual safety switches not only increase safety, they are more convenient as a problem with one circuit results in only that circuit tripping rather than the entire board being tripped (the way the old system works)
We can upgrade your old fuse board to a complete circuit breaker panel
We can install a protective main switch
We can also provide surge protection on individual circuits or the entire premises to take energy spikes down to earth and protect electronic equipment and the house's wiring
All switchboard upgrades from fuse board to a new curt breaker enclosure including upgrading the main switch will require a prescribed certificate and independent inspection to sign off on the works which we always arrange on behalf of our customer
Flame proofing of switchboards is also very important. If something goes wrong with the board, it will reduce the chance of the issue spreading outside the protected zone.
Solar Panels
We can advise you on solar panels and head you in the right direction
We clean solar panels as they get dirty reducing effectiveness. Keeping them clean will maintain their optimum ability to generate electricity and save you money
We can check the connections and give reports on the condition of the connections and wiring as required (Some of the early panels were questionably installed at best)
There have been a lot of regulation changes to make the installations safer and more reliable over the past few years
External Lighting & Power
We can advise you on solar panels and head you in the right direction
We clean solar panels as they get dirty reducing effectiveness. Keeping them clean will maintain their optimum ability to generate electricity and save you money
We can check the connections and give reports on the condition of the connections and wiring as required (Some of the early panels were questionably installed at best)
There have been a lot of regulation changes to make the installations safer and more reliable over the past few years